Participants were able to escape from the effects of information overload at the artists' lectures with a number of other events held in and around the main Cafe Moskau venue.

Doll creators and remixers
Crossing the wide boulevard back over to the Cafe Moskau, in the 'Salon Kaukasas', was another program highlight – the 'RMX Pillow' project, coordinated by the Australian design collective Rinzen, the famed inventors of the 'RMX' concept whereby graphic designers and illustrators exchange and modify eachother's creations in an on-going process of evolution.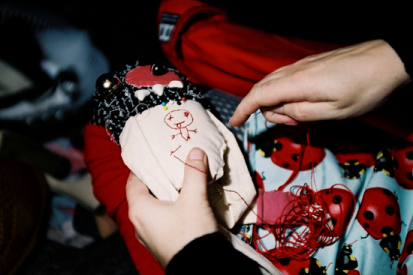 Stitching up a storm
This time though, the designs to be remixed were, appropriately, plush dolls. People sat happily stitching and snipping away, with boxes full of materials to use for their toys, which were then altered and manipulated by other workshop attendees, often to the delight or sometimes horror of the original creator. Rinzen's RMX project was the perfect communal activity to while away some hours on a cold, overcast Berlin afternoon, and a nice way to meet people through the exchange of safety pins, thread, and fabric offcuts.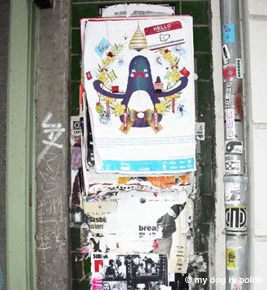 Berlin street art
After the fall of the Berlin wall, the blank grey walls of the east became a new urban canvas for street and graffiti artists, acknowledged in the Pictoplasma Conference by way of a Graffiti walk around Berlin. Participants followed Berlin-based graffiti artist 'Nomad' around his neighborhood in Prenzlauer Berg and were treated to a dedicated four hour talk about the history of street art in Berlin.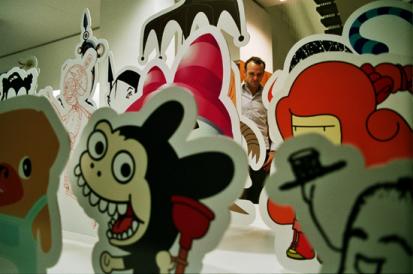 'Characters at War' Exhibition
At the 'Characters at War' exhibition, held in Berlin-Mitte not far from the main venue, a gallery space was filled with cardboard cut-out characters assembled in a long line, with bastardised versions of Ronald McDonald, Hello Kitty, and an array of other fantastical curiosities (with legs) all marching forward in a kind of surreal protest to have their silent voices heard.
Night time entertainment was staged firstly at the Volkspalast, the former East German parliament, a mammoth building recently gutted from asbestos and sitting on building death-row, but currently providing a venue for Berlin's large-scale art parties. The evening promised a '360 degree VJ presentation', but was a little disappointing in that it somehow only made it to about 260 degrees, but was nonetheless a relatively entertaining evening with an almost 'rave' party vibe.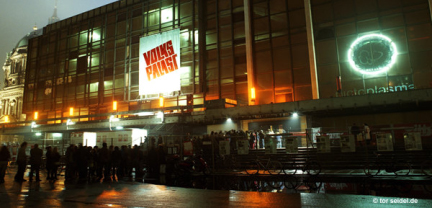 The queue lining up for Friday night's party at the palatial shell of the Volkspalast
The following evening at Cafe Moskau kicked off with the very amusing 'Toast' work, by 'Gob Squad', where pieces of white bread were frenetically toasted to create a tonal range of browns with which to create a large scale wall piece made completely of toast!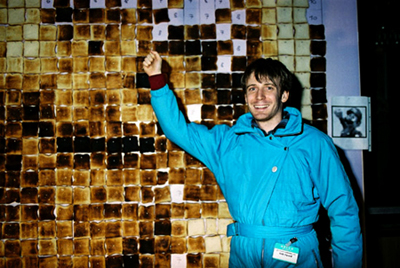 Gob Squad – Victory over toast!
Other open performance presentations by artists included Mumbleboy, Berlin's crafty creators the Steak Zombies, and French illustrator Miss Van.
In a busy calendar of art-based events this year in Berlin, the Pictoplasma Conference stood out as an original and cleverly planned event which brought fresh recognition to the genre of character design and illustration, in all its manifestations. With interactive events as much a part of the program as performance and presentation events, the conference was a pleasure to be a part of, with a healthy dose of spontaneity and a friendly atmosphere that was highly inspiring to witness. All designers and artists take note – the 2005 Pictoplasma event is one not to be missed!
Pictoplasma Conference
Date : October 28th – 30th, 2004
Venue: Kino International, Cafe Moskau, Zentralbuero
conference@pictoplasma.com
http://www.pictoplasma.com
Text: Peta Jenkin with additional text by Mark Macpherson
Photos: Peta Jenkin and Nina Erfle
[Help wanted]
Inviting volunteer staff / pro bono for contribution and translation. Please
e-mail
to us.