The Sonar Hall showcased a program of experimental audiovisual content. I caught a small snippet of audiovisual work by artist Sesam-o, with dreamy microscopic textures mixing over each other to an abstract, atmospheric soundtrack. It was nice to sit down anonymously in a dark room and get lost in sound and vision for a while.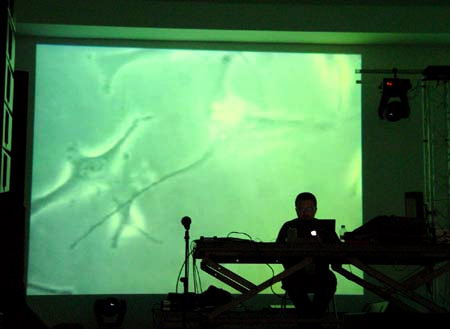 SonarHall
Rambling back down Las Ramblas to Sonorama, for an evening of live audiovisual showcase grouped under the title 'Attitude' – three 'VJ' groups whose work is concerned with politics, specifically the media and gender representation. VJ performances at the festival seemed to be divided into two camps – artists who use software to mix their own video footage and 'pre-rendered' animations, and other artists who are experimenting with programming or various types of computer code to generate real-time graphics, triggered by audio sound waves or other controlling devices.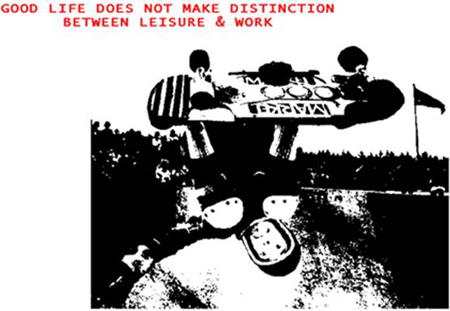 Santofile
First up on the program was local artist and media activist SANTOFILE, who projected a dizzying mixture of images of cold war propaganda and slogans, accompanied by a layered bed of muffled noise. Three projection screens on the stage allowed for three simultaneous displays, and on this occasion, the left screen displayed some type of interactive interface, with boxes containing text that were being selected and mixed live with the imagery in the centre screen. The relentless images of war and media propaganda highlighted the dangers of government-controlled media, but I found it tiring to watch the same images and random type being repeated over and over again.
I don't think anyone at the Sonarama was prepared for what came next. VJ group 'GIRLSWHOLIKEPORNO' a four member all-girl VJ group based in Barcelona, caught the interest of many Sonar attendees and I noticed the hall filling up steadily with a lot of people (mostly male!) before the show began. With such a provocative title, I wasn't surprised.
They started off energetically, projecting different visuals on each of the three screens, with the DJ providing a funky electro soundtrack. Images of women in various states of undress and sexual pleasure, Japanese cartoon-style pixel babes, and black and white bitmapped porn were mixed over each other at a frenetic pace. I had a chance to speak with the girls after the show, where they explained that their main aim was to re-contextualise pornography into a medium designed for women.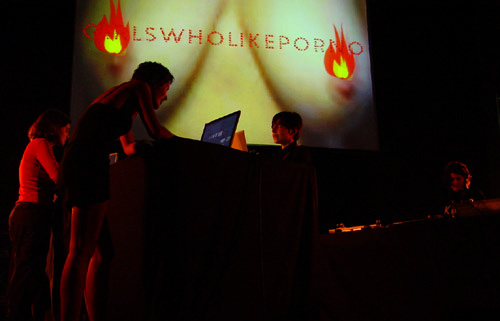 girlswholikeporno
Half-was through the show the fourth member of the group arrived on stage wearing black overalls and sunglasses, grooving slowly to the music as she sang lyrics into a microphone – the girlswholikeporno 'MC'. She started performing a strip show, and before you knew it, she was toally naked – except for her sunglasses!
The audience was going pretty crazy at this point, with people cheering and clapping, and other people getting up and dancing wildly about, in what had started as a pretty standard audiovisual presentation. The show was hilarious to watch, and full of energy and humour – refreshing to see.
Next up on the program, and by no means less engaging (although no on-stage shock tactics were employed this time!) was a piece called 'CyberSpaceLand' by VJ Ubergeek, backed up with music by DJ Donna Maya, both from the US. Ubergeek stood front of stage, using a computer keyboard almost like a live instrument, a departure from the familiar vision of computer nerd sitting partly obscured behind a laptop.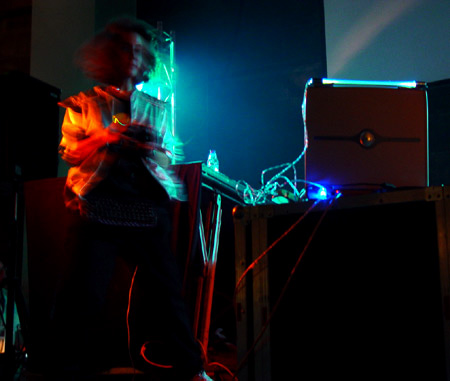 Ubergeek
Sentences of text animated across the screen, triggered by words typed into an on-line search engine. The myriad layers of text became the aesthetic, and it was an interesting (if perhaps a little cryptic) look at the language of web culture and personal on-line interaction.
A jam-packed first day of Sonar Art it was, and by the end of the audiovisual concerts I was totally exhausted. I got out of Ubergeek's presentation too late to catch the concert at the Auditori by Ryuichi Sakamoto and Pansonic. It was a shame to have missed it, but I hadn't eaten for hours and had some catching up to do with friends. And, later in the evening was the press party at the Razzamattazz club where I made up for lost party-time and enjoyed some live entertainment and a great live show by Roots Manuva.
[NEXT]
[Help wanted]
Inviting volunteer staff / pro bono for contribution and translation. Please
e-mail
to us.