Prix ARS Electronica is the festival's contest which attracted 2714 works from 85 countries this year. (Incidentally, the ACA Media Arts Festival had 1375 entries from 20 countries.)

Koji Yamamura and Meiwadenki took Second Prize in the Computer Animation category and Interactive Art category respectively. With Astro Twin and Cosmos taking Grand Prize in the Digital Music category, Japanese artists were particularly conspicuous this year.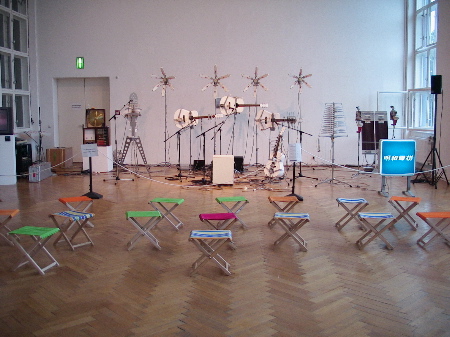 Five exhibitions were showcased: "Cyberarts 2003", "ARS Electronica Centre Exhibition", "CODE Exhibition", "Electro Lobby", and a student project, "Campus".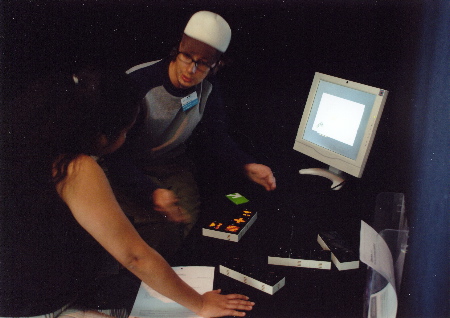 "Cyber Arts 2003" showcased the events prize-winning works. Japanese Art was represented through the "Tsukuba Series" by Meiwadenki , "Block Jam" by Ryota Kuwakubo and "Streetscape" by Iori Nakai.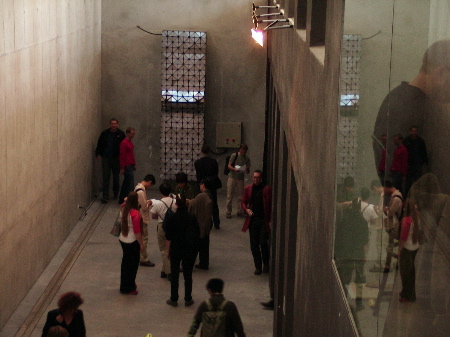 Personally I found dECOi's (France) "Aegis Hyposurface" interesting. The work involves controlling dampers via a computer and transforming metallic polygons three-dimensionally. When the whole thing begins to move, it is powerful and compelling. I just wonder what the production costs totalled up to.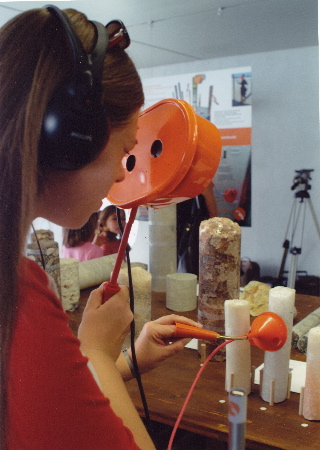 Another piece was "Earth core laboratory and elf-scan" by Agnes Meyer-Brandis (Germany). A cross- stratum of the earth had been cylindrically cut, and reveals fairy figures inside when scanned. It is sweet, with a different drama being played out in each layer.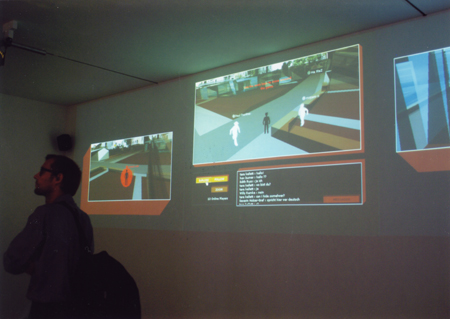 The winner of the Interactive Art Prize, "Can you see me now?" by Mixed Reality Laboratory (UK) is a hi-tech version of the game, "tag". Each player via GPS sensors to confirmed the positions of other players and subsequently ran after them. The video I watched didn't present the game as very enthralling, but perhaps you have to take part in it to do it justice.
The ARS Electronica Centre Exhibition picks entries from the competition entries that were not chosen for prizes and displays them over the year at the centre. Noteworthy works included Sachiko Kodama and Minako Takeno's "Protrude, Flow", consisting of a magnetic liquid which reacts to sound as though it's alive. Their table was never short of spectators.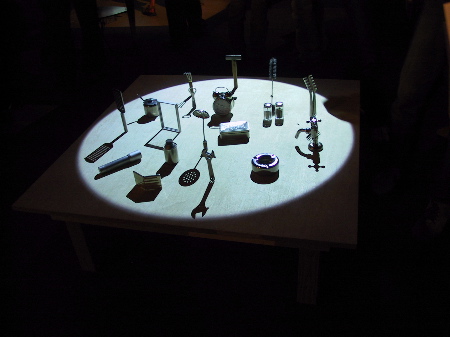 Many were also gathered around Minim++'s "KAGE", the shadows' unexpected movements quite startling.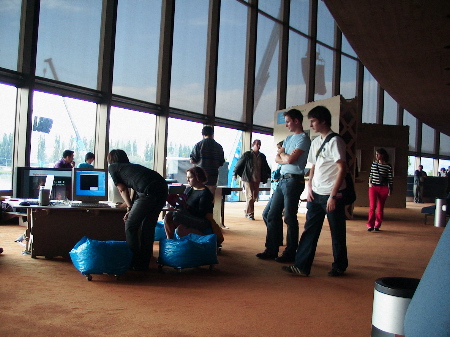 The CODE exhibition and Electro Lobby were held on the first and second floor of the Brucknerhaus. The CODE exhibition brought together those works particularly relevant to its namesake, this year's theme. John Maeda, NHK's Digista, and W. Bradford Paley, who took the Grand Prize at last year's ACA Media Arts Festival, could all be found here.
[NEXT]
[Help wanted]
Inviting volunteer staff / pro bono for contribution and translation. Please
e-mail
to us.