ECHIGO-TSUMARI ART TRIENNIAL 2003
Day two in Tsumari.Breakfast at an inn was really delicious. I left the inn early in the morning to see works in Nakasato Village that I could not see yesterday. I drove the cararound Tsumari area during my stay and on that day, my right arm was being scorched all day. I saw a work of Noe Aoki, who had a workshop with children to make a place where they want to stay alone, at a school playground of an ex-elementally school and I had a strange experience there.I thought a jungle gym with splints is her work and I was moved when I saw it.I still remember that there were many works, which we will never notice unless somebody tells us they are arts, in last triennial.Works of Tadashi Kawamata and Kim Sooja are ones of them and they completely camouflaged into scenery.What I expected to Tsumari might be a work that is not made as an object.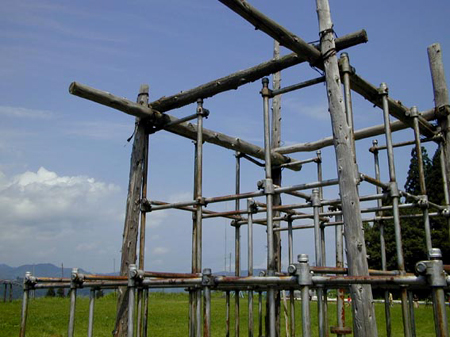 I was planning to see a work from Nobuho Nagasawa in Tokamachi Town but I went the wrong way. It was a narrow road in a mountain but according to the map, there is another work. On the way to that work, I had to walk and after going through a steep mountain path, I reached the top of a hill. A tea ceremony room was on that hill and experiencing a tea ceremony was the work. There were 5 or 6 people ahead and somebody told me that I had to wait about 30 minutes. So I decided to believe what my friend said, "it was worth waiting".From a wooden bench under a tree, I could see mountains and roofs of a village. I sweated a lot after walking a steep road, so a wind from the mountains was really refreshing. Carpenter bees were buzzing around me. Many lives were in silence. My brain was really active from the morning but I noticed that in that atmosphere I gradually adjusted to Tsumari time.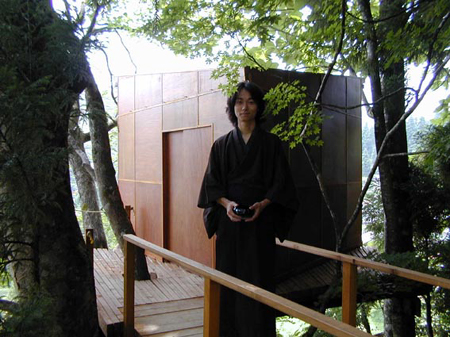 The time in this place was the most luxurious and fullest time during the three days in Tsumari for me. I enjoyed this kind of moment where nature healsus is mentally richer than hastily looking at 250 works. The tearoom was located at the edge of the hill and the scenery spread out over a table. With that scenery as company, I enjoyed a green tea made by artist Takahide Mizuuchi. I found a question that was written at the bottom of the teacup. He participated in the last triennial as a member of Kohebitai (Little Snake Squad) and this year, he was chosen from the public subscription. He spent one year in Tsumari in order to make teacups with local people. I cannot describe his teacups asbeautiful, but Istrongly feel this young artists hope; creating chances to see people to visit. No more busy time. After this work, I decided to enjoy this trip and the winds and nature of Tsumari as much as I could.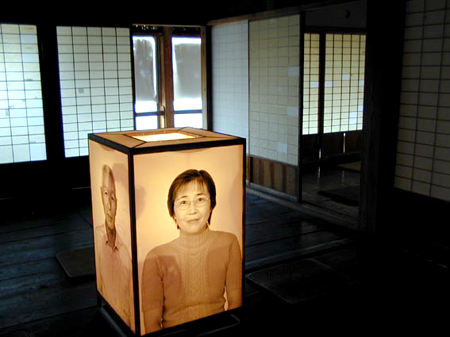 Nobuho Nagawasa's work could be found in a old private house that has been a vacant more than ten years.Portraits of three generations of a family were drawn in a revolving lantern and it was slowly turning around.A dumpy and humid smell in a dark house and a squeak sound of a wooden floor. They reminded me of summer when I visited my grand mother to take part in the Festival of the Dead (the traditional festival in Japan that is held for 3 days in August.It is said that spirits of ancestors come back to a house during these 3 days).Like a genetic inheritance that we can see in people's face, will this kind of memory inherit to next generations?
I saw a group of people who were going around in a bus tour at Matsushiro stage.I exchanged information with them and we all reached to a conclusion: the most impressive works is the one that is worth looking even though it takes time to visit there.Everybody knew that after going through a long way, there is a big meaning of this event.A participated artist Ms Ritsuko Taura said "Matsudai area is almost like an exhibition place but if you go deep in the mountains, you will feel more about this land" and I thought it was really true.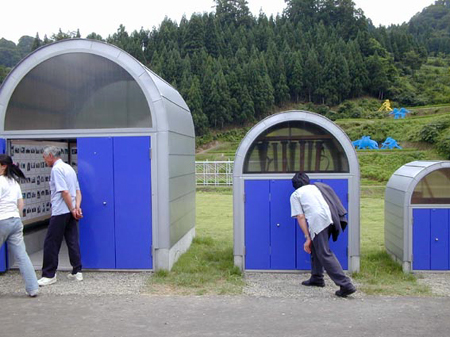 I had a soba (a Japanese noodle) for lunch.I supposed to catch my miserable friend who were doing jobs at the inn but I lost my way again and reached to a work at deep in the mountains.Loosing a way was not a waste of time…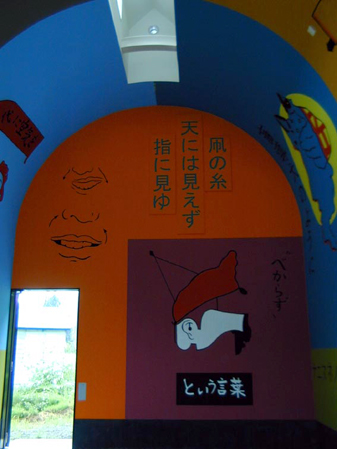 "Little Utopian House" is a work of Jean-Michel Alberola from France.This is small house in a small community where only 9 people are living in 5 houses.A shape of a roof was like a dome and something like a French proverbs were written in Japanese on a ceiling.The fact that 9 people are living in 5 houses made me surprised more than this work.I was wondering how will this community and work will be ten years later from now.
Then, I went to Matsunoyama Town to see "Echigo-Matsunoyama 'School in forest' Kyororo" designed by Takaharu+Yui Tezuka at Matsunoyama stage. This is a unique facility that offers the natural science and the culture through a living textbook: forest and village.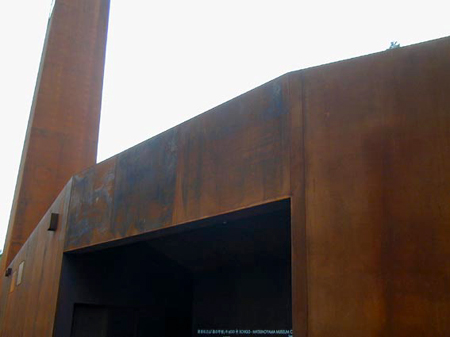 Not only the big scale modern art exhibition about Australian aborigines, but also I could see the great collections of butterflies by Usuke Shiga.Mr Shiga is the honorary townsman of Matsunoyama Town and he is known as "The best entomologist in Japan."Kyororo Tower is a work of Takuro Osaka and this is a fantastic work that 7,656 diodes blink in a dark."Don't worry. It's not scary.We can reach the top soon."As I encourage ourselves with local children, I climbed up narrow stairs but it was a great shame that windows of the tower were locked.Instead of this, somebody told me that it is possible to observe a cross section of snow and light but I wanted to breathe a fresh air.When I got down, I saw a group of girls from Tokyo. They told me that they arrived in Tsumari at noon and will back to Tokyo at night.I recommend them to climb up the tower.Their stay was short, so I wanted to give them muscle pain as a souvenir.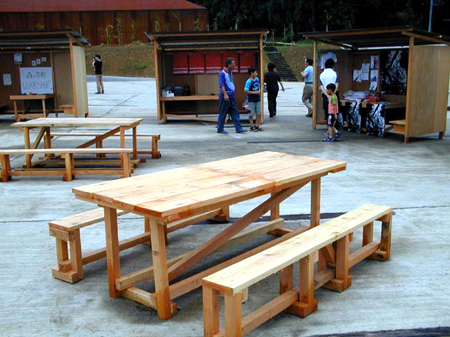 I saw many sheds, which were selling local special products, at a part of the parking space that Tadashi Kawamata designed with students in 2000.I also saw similar sheds on the way to my inn.I was talking and laughing with my friend that "they look like Mr Kawamata's work" but they really were.He made Tsumari's traditional "Hase" (tool for drying rice plants) for several kilometers in last festival and he made the works that camouflage scenery again.That's interesting.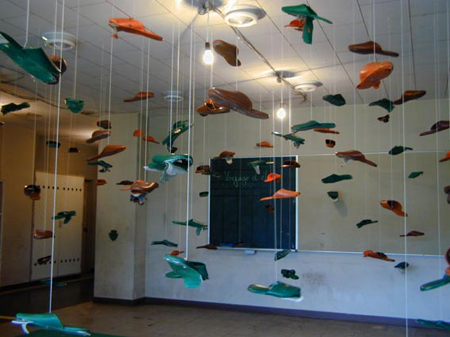 I caught another friend in Tsunan Town and went to see Christian Boltanski +Jean Kalman's work "Summer Journey" in Matsunoyama Town.They used a whole elementally school, which was closed down because of the depopulation, and their installation was amazing.Sound of piano and childrenユs voice were echoing in corridors where nothing was placed.In a one-class room, children's clothes were hanging.In a corridor on the second floor, a fan was sending wind to shake white curtains.Nobody was there but there was full of sign of life.Desks were covered with white clothes and they were placed at random in Music room.Photos of kids, who were doing a vocal exercise, could be found over a fog.Is this installation about a requiem for the closed down school?I was getting frightened so we decided to leave before the sun goes down.
The opening party of this festival was held at "Tokamachi stage – Echigo-Tsumura Koryukan" at night.Hiroshi Hara +ATELIERΦ designed this building.A space with water at the middle of the billing gives us an open wide impression and this building has hot spring facilities as well.Corridors around the space are used as a gallery space and I could enjoy some nice works that are made by having a communication, such as "Kaekko Shop" by Hiroshi Fuji, "Jewel Quickies" and "Shoot a film!Tokamachi Defense Rangers (School Kids version)" by Parco Kinoshita.The party was in full swing and dazzling selection could be seen more than the opening party in Tokyo.I could see sense of relief from the faces of staff and guests seemed to be enjoying the time as if they were on a holiday.At 8 o'clock, White Base ((Jiro Hirano+Seiichi Saito) had a Kimono Flowing event.People in Kimono with gleam balloon slowly paraded through the town and it created a fantastic night festival atmosphere in a humid summer.After this parade, it started to rain as if the sky was waiting for the end of this event.
[NEXT]
[Help wanted]
Inviting volunteer staff / pro bono for contribution and translation. Please
e-mail
to us.