As we chill on the astroturf of the SonarVillage and enjoy the fine visuals of the last set courtesy of Pulseprogramming, I take advantage of the best of catalan hospitality. For some reason most of my friends stayed at home for this edition of sonar so my hosts have provided me with a ready packaged neat little group of friends to go partying with. This happens every time I come to Barcelona. It's their first time for these guys they've got more energy than a bunch of teenagers. I myself feel quite proud of having made it this far with so little sleep and only hope I can keep up. A swift trip home to pop my head under the shower and we're off, sandwhich in hand, to see Underworld.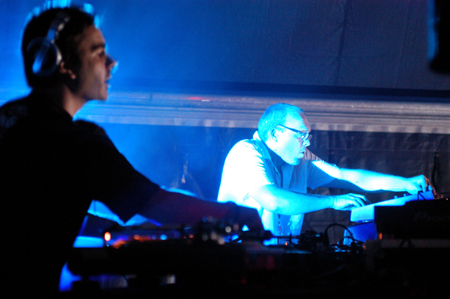 © Advanced Music – Underworld
As we enter the immense hangar I can tell already that it's not as crowded as last night. I've got itchy feet again and Underworld seems just the place to be. My packaged friends have been doing their warm-ups by the time I join them, but I've come prepared in full athletic gear to keep up the pace. Karl Hyde prancing up and down the stage like a nutter has got that rock gig energy that so typifies Underworld and really knows how to find the rocker in each one of us. It's one hit single after the other but just when we most need it they slow the pace down so we can catch our breath. But although the pace is great, I get the impression that Underworld suffer from a certain lack of imagination. It's all a bit monotonous and aside from the big hits, the rest of the tunes are dull and repetitive. It's good fun, and a great dance but it's a million miles from an Orbital gig or even the Chemical Brothers where the music is far more elaborate and diverse. I miss the variety of a complex tune and get the impression that Underworld rely more on a good drum loop and a catchy bassline than on anything else. But when the hits come they rock and I really couldn't care less.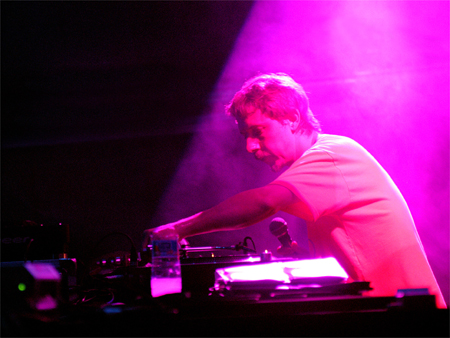 © Advanced Music – Gilles Peterson
I was hoping to catch a glimpse of Gilles Peterson but his set's over by the time Underworld have finished so I pop out for some beers while we wait for Jeff Mills. I was dancing to Jeff Mills before I even had my first job, and that's quite some time ago. But he hasn't changed that much really. It's techno and it's mercyless. Just as well as we'd done our warm-ups because this stuff's even harder to keep up to than Underworld. My friends love it and we stay for a while.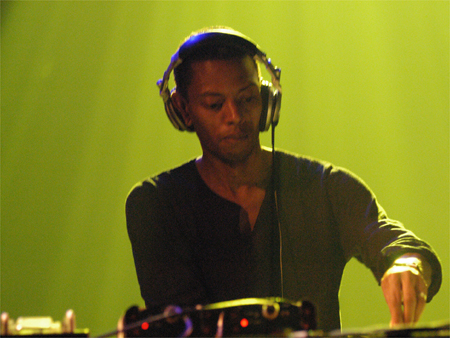 © Advanced Music – Jeff Mills
Every now and again Jeff takes us down a deep tunnel of darkest techno but just before we get the Fear he opens a window of fresh beats to lighten things up. Then back to the tunnel for a while and back up for air again. In the meantime I've kept my eye on my watch and Ladytron ought to be on by now. Everyone agrees that Jeff's the king of techno but a change of pace would be quite welcome.
I haven't heard much about these guys from Liverpool but I like surprises and that's just what I get. I can see the references to New Order but I'd say they're no more than that, similarities that could only pigeonhole them.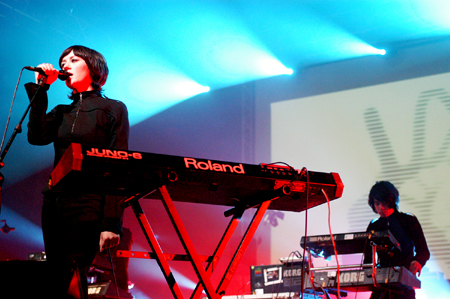 © Advanced Music – Ladytron
Instead Ladytron offer us a varied and full set which takes my friends a little getting used to. They can't quite figure out how or why they should dance to this after the brain rinse-cycle Jeff's just put us through. But it's a welcome change and it sure appeals the sense of humour of those little mushrooms that mysteriously made their way into my diet tonight.
Now DJ Hell's obviously got a sense of humour too. And if Karl Hyde knew how to appeal to the rocker inside us, our mate Helmut goes straight to the root of it. It's the great electro set they'd promised me we'd hear but it's so much more than that. Isn't that Iggy I hear? Indeed it is: no less than the Stooges' I wanna be your dog so well disguised in that electro sound that it seems as if it should have sounded like that all along. And it really takes all sorts because there's room here for Goldfrapp and just when he's got us all wound up he releases the hounds of raw unbridled guitars for the whole SonarPark to headbang and play air guitar to. Glorious!
Now he's really got us rolling; it's sometime between four and five in the morning and it's time for the traditional final set courtesy of Laurent Garnier. Bugge Wesseltoft, who gave us such a lovely jazz set on friday, is here to lend a most welcome hand and sprinkle a little of that trumpet magic onto an otherwise inspired set. And it's back to my childhood days to start off with Donna Summer's I feel love. If only my parents knew that thirty years on I'd still be listening to this they wouldn't believe it. We weave back and forth between Garnier's own classics and stuff that's so old school that to some people here it must have been primary school. There's room for S-Express and and instrumental version of the KLF's 3 AM Eternal.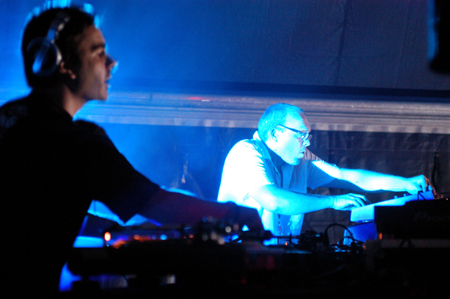 © Advanced Music – Laurent Garnier and Bugge Wesseltoft
When some breakbeats finally hit the decks I realise with great surprise that it's the first drum & bass we hear all night: amazing, we've heard more rock guitars tonight than breakbeats' what's the world coming to? Then back again for some of Laurent's own. It's getting light out here in the open roof sonarPub and it's big smiles all round in spite of the exhaustion. We've left the dark vaults of techno behind and by now we've all got the giggles. Each old tune has us in stitches as we sail through my teenage-years record collection. A girl in disco trousers challenges me to keep up her pace in the best saturday night fever style, but it's just too much when we get to the spin. I try once, I try twice and by the third time I crack up with laughter before we even start. It's a silly end to a perfect weekend as the sun comes up behind the clouds and we bury yet another sonar. We've made it to the end and there's a somewhat epic feeling to it. A sprinkle of rain has everyone with their palms up in the air begging for more, and it's off to the beach for the brave and off to bed for the tired.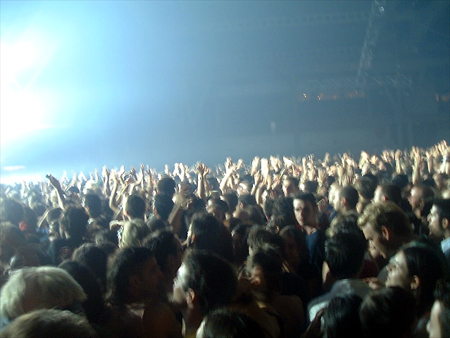 Sonar Night
As I lie in the shade of an oversized umbrella waiting for a table at the nearest chiringuito I thank the sponsor for their tastless inflatable pillow. This year sonar's swapped big names for lesser known artists with just as much talent if not more, and exchanged drum & bass for jazz influences. I missed the presence of anyone from Ninja Tune but it gives me a good feeling that the festival's evolving. It doesn't however calm my fears that its size is getting out of hand. Perhaps the solution lies in opening new doors like they did in London. It might just be the only way to get everyone to fit, otherwise I just don't know how they're going to satisfy the growing demand. But once again I take my hat off at the excellent organisation and as the sea breeze blows past, with my toes in the sand all I can think of is the gentle rocking of the waves and the sweet smell of the sea.
Total Attendees: 89.109 people (41.609 Sonar by Day + 47.500 Sonar by Night)
Total Professional Accredited people: 1.611 from 31 countries.
Total Registered Companies: 658
Total Journalists accredited: 848 (439 from Spain + 409 from 42 different countries)
Total Media accredited: 444 (196 from Spain + 248 from abroad)
Artists at the festival: 387 from 20 countries
Total visitors for the online broadcasting through sonar.emisiondigital.com: 138.000 people
SONAR 2003
Date: June 12th, 13th, 14th 2003
Place: Barcelona, Spain
press@sonar.es
http://www.sonar.es
Text: Ben Vine
Photos: Shinya Sagai, Michiko Ikeda
[Help wanted]
Inviting volunteer staff / pro bono for contribution and translation. Please
e-mail
to us.