Sonar's own corporate image over the years is worth an exhibition of its own for being one of the most original and innovative I've ever seen. The psychic twins theme for the 2000 edition was incredible; they shot pictures of two twins with a distinctive Carrie edge to them involved in all sorts of bizarre paranormal activities. The retrospective is completed with computers, CD players and video stations where we can enjoy a la carte the vast array of interactive art, videos and music that has come and gone over these past ten years. But there's no way of overcoming the anxiety that there's stuff going on out there that I really don't want to miss; I'll be damned if I spend ant more time in front of a screen so I head out because Miss Kittin set is on in a minute.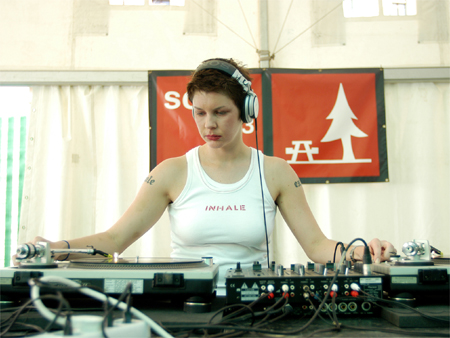 © Advanced Music – Miss Kittin
As I expected: it's packed and boiling hot. But we're not here for the cool breeze are we? If dance music's meant to do one thing it's make you dance and mademoiselle K's finally got us moving. But that's just warm up, the best is still to come and Fabio takes over the decks with ominous shades and and massive gold chains.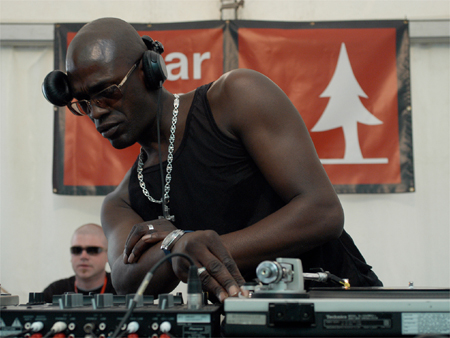 © Advanced Music – Fabio
And it's a round of fine drum and bass for this BBC radio 1 session, of the kind I haven't heard in quite some time. No warm up here, no intro, just fine breakbeats to get us twitching and hopping through the afternoon. The crowd loves it but perhaps the one detail that escapes our man is just the time of day, because within half an hour he's journeyed far into the depths of the most nocturnal drum and bass and I've just got to go for a breather.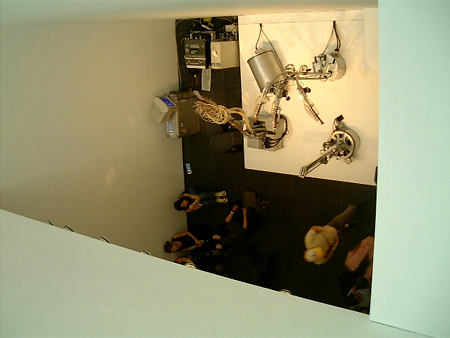 Soundcluster
Sonarama, the space dedicated to sound installations, turns out to be a little bit disappointing. The Sonusphere designed to pick up normally unheard movements of the ground is just too subtle for the general chaos and bustle going on; Roland Olbeter's Soundclusters robots, originally created for the renouned catalan dance company La Fura dels Baus' Faust 3.0, somehow only dehumanise the music they perform; and MIT PhD candidates James Patten and Ben Rect's AudioPad is probably best visited online because the queue to play with it's just too long. Francisco Lopez' Two Blank Spirits requires either a lot of time or a lot of patience but it's not a bad place to chill with its large latex beds, white screen and inaudible soundtrack. Very blank indeed.
But it's the last performance that has me absolutely enthralled: Kevin Belchdom at the SonarComplex. A digital camera focuses on the stage and projects its raw image as a backdrop for the Kristen Erickson's performance. We can all tell at a glance that Kristen's a strange creature, she comes onstage with her laptop and starts singing an off tune song with a distinct childish edge and goes on to perform a bizarre repertoire which I'm at a loss to describe. It's pop, but not like we know it, it's more like the massacre of pop. And I just can't tell you the delight with which I watched Whitney Houston's blood shed all over the stage as she tore through an excruciating cover of I will always love you.
If you thought that Whitney's version never seemed to reach the end, wait for this one. Whenever Kristen seems to have reached the end picks up again, and again and again. I think I lost count after the twentieth time she almost finished the song. It takes quite an advanced sense of humour and had one guy literally shedding tears of laughter every time she bursts into yet another chorus of "and aaaaaaaa-i-aiiiiiiiii" (see photo) Superb, truly brilliant, especially to a lover of bad taste like myself.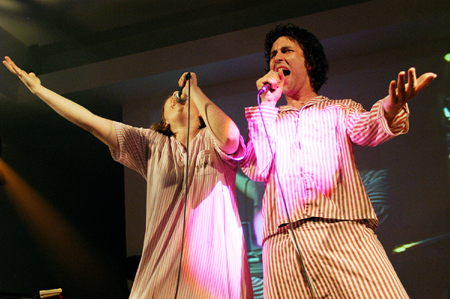 © Advanced Music – Kevin Blechdom
Damn! It's almost ten o'clock! That just about gives me time to rush home, drop my shit off and head straight to sonar by night. Bjork's on at 11:15 and by the time we get there the queue to get in is huge. When we get in she's already started and everyone's literally running to get a decent spot. The last time I saw Bjork was about ten years ago at Glastonbury and she was about four pixels high from where I stood. The SonarClub is so vast that this time she's not much taller: an inch and a half at the most, and being short sighted sure doesn't help. It seems a bit pointless to be looking at a screen at a live gig but then again there's really no comparison between listening to this on your humble hi-fi at home and hearing it here. We're not talking about any old Roland sampler, we're talking about Bjork's voice which is enough to make your hair stand on end when she tries. And she does.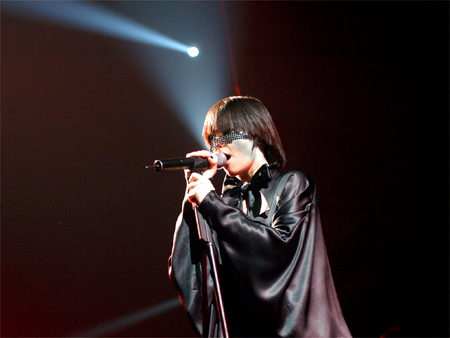 © Advanced Music – Bjork
The visuals are great but perhaps we would have liked something a bit more elaborate than the four videos that were played and the fireworks at the front of the stage. But much to my delight this is no greatest hits session and there are a couple of tunes I don't think I've heard before. Hunter blurs the line between atist and character, it's so very her as she hops across the stage as the pixie she is, and it's a delight to Batchelorette and Hyperballad live for the first time. All is full of love isn't accompanied by Chris Cunningham's superb video, I guess it's all too tightly synchronised to work on stage. But the one song that really moves me is Human Behaviour during which Bjork's voice modulations shoot right through my head in subtle waves of green and yellow. In fact the song sounds so good that it'll keep me company for days to come whenever there's a moment's silence and the little sampler in my ears decides to play back some loops. But just 18 songs after she started, Bjork leaves the stage and there seems to be no time for encores. It felt too short after so much expectation and a lot of people feel a little short changed, myself included.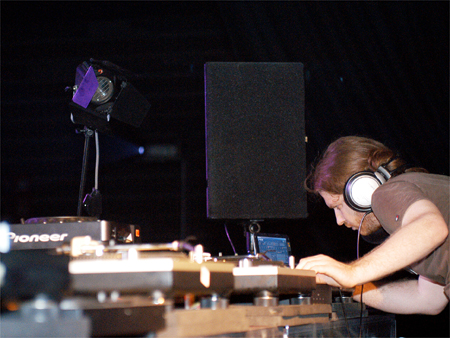 © Advanced Music – Aphex Twin
Oxide & Neutrino are the only live set to come tonight, which seems a bit lame, but they're not on for another two and a half hours so it looks like DJ Vadim's gonna be in charge for a while. But to my horror my musical nightmare's back: Mucho Muchacho. He's a catalan rapper who in spite of his near absence of talent, gets on well with Vadim so they usually perform together. But what Vadim obviously doesn't realise is the emptyness and banality of his rhymes. So we try to kill time for a while until DJ Krush starts but none of my friends can take it for much longer. I would have loved to last long enough to see the ever terrifying Aphex Twin, but they're right: this sucks and we'd better go home and get some sleep.
Saturday. There's a couple of showcases I'd like to check out today, the Smalltown Supersound showcase from Norway and Piemontegroove to see what the Italians have got to offer aside from the dubious honour of having resurrected one of the most frightening moments of eighties italian pop, a duo called Righeira, better known for their infernal hits 'Vamos a la playa', and 'No tengo dinero'. But our first port of call has got to be Jamie Lidell from Supercollider after the taster he gave us at Herbert's gig.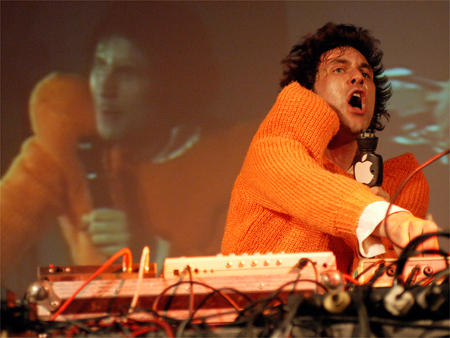 © Advanced Music – Jamie Lidell
It's something in the style of Herbert's set without the big band. It's noise and chaos but truly inspired and original. And the crowd just loves it. Next in line, The Puppetmastaz take the SonarVillage by surprise with their hip hop and puppetry routine which goes down an absolute treat. As far as guest artists are concerned, things don't get much better than this: Elvis himself turns up on stage and the mastaz take off in style.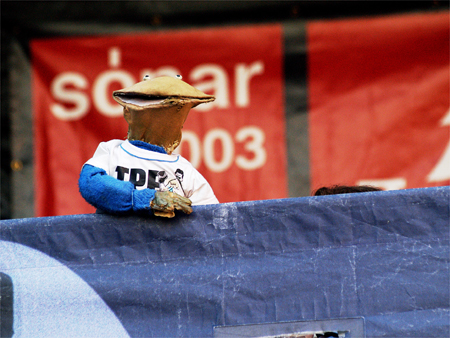 © Advanced Music – The Puppetmastaz
I keep an eye on the Piemontegroove sets and catch a glimpse of Strek vs. Atzmo whose set has a lovely Squarepusher edge to it which occasionally lapses into straight electro. It's quite a relief to hear something so original coming from what used to be such a musically challenged land. What is absolutely sizzling are the Norwegians who are fighting the heat with some flaming jazz.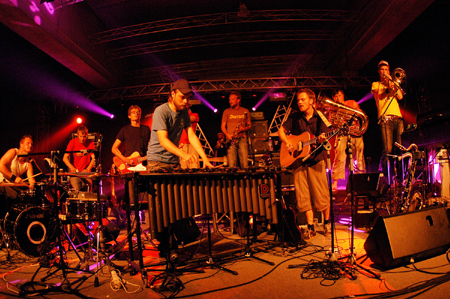 © Advanced Music – Jaga Jazzist
Jaga Jazzist seem to be perfectly in tune with the crowd which throws more coal onto the fire and really gets them going. The ten strong set delights us with superb vibraphone solos, an impressive drummer and a splendid brass section. Perhaps the only problem they have is at the mixing desk where the electronic beats are overshadowing the trumpet and guitar solos, which lack the central focus they deserve. Nonetheless the best set today underlining once again that if there's something that will keep electronic music alive it's the ever fertile marriage with jazz.
[NEXT]
[Help wanted]
Inviting volunteer staff / pro bono for contribution and translation. Please
e-mail
to us.