"Furi Furi Company" made this month's cover design. Their first book will be released in this autumn and the exhibitions have been held since July in Tokyo and Sapporo for this release. It can be said that their activities are notable to pay keen attentions. You can feel their positive attitude "keep on moving forward" from their words and designs.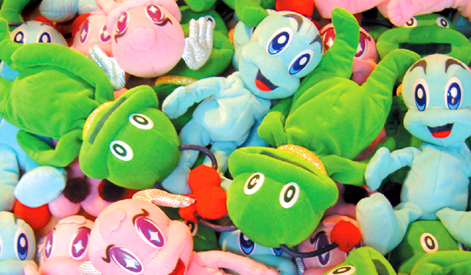 Please introduce yourself as well as your background.
I am Ryosuke Tei, a president of Furi Furi Company. I was born and grown up as a third-generation overseas Chinese merchant in Japan. I was working in the fine art world in order to find out my identity at the early times in my twenties. A certain opportunity made me to establish Furi Furi Company and it was when I was 30. "How make people enjoy with creativity" is my current theme. Not only running Furi Furi Company as a president, but also I do character designs, concept designs and art direction.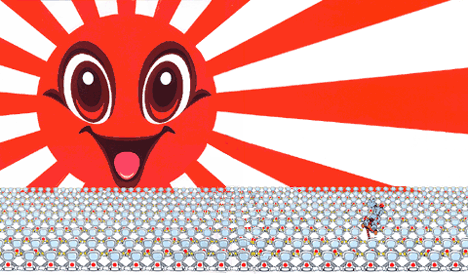 Please tell us about Furi Furi Company. How has it been grown up since it was founded in 1998?
I started up this business with Miho Sadokawa in 1998. After that, Osamu Iwasaki, Kazu Hirai, Taro Yamada, Handsome and Shigehiko Kumagai joined us, then the current Furi Furi system was set up. The company changed itself everytime a new talent came to work with us as if a new-born-baby is influenced by an environment where he/she is and grow up to follow it. We considered that doing business is important and it was vital thing for Furi Furi Company as a brand. Using our brains for creative things is natural because we are designers. However, there are many young people who are not good at business matters. Thus we seriously took it to strengthen as well as the creative aspects. As a result, we are now able to do wonderful works with wonderful clients.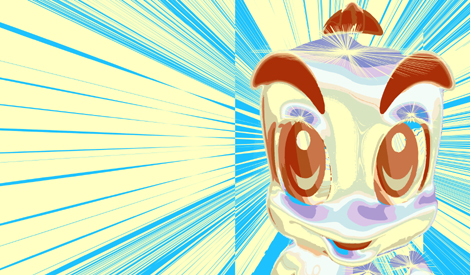 Why have you set up 4 sections in Furi Furi Company, Furi Furi, Dv4, Erotic Dragon and Taro Yamada? How does each section work?
This is because client got confused with the wideness of styles we got. The style of each staff was getting clear and many other things happened at that time. So we divided the company into 4 teams (4 project sections) in order to display all members' ability to the full.
"Furi Furi" is specialised for designing characters and cute stuff.
"Dv4" is specialised for web designing and graphic designing. Mainly Osamu Iwasaki and Shigehiko Kumagai run it.
"Taro Yamada" is specialised for producing printing stuff from editorial & graphic designs, publications, CD labels and packages. Taro Yamada produced our first book.
"Erotic Dragon" is an illustrator who is with a cutting-edged and original taste. His style is strongly conceptual and artistic. He has recently made an agent contract with CWC/CWC-i and is working for them.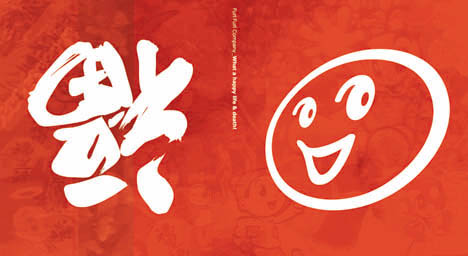 Furi Furi Company's first book "Furi Furi Company What a Happy Life & Death!" will be published from a German publisher "Die Gestalten Verlag" at the middle of October. Could you please tell us about this book?
I am Taro Yamada who is responsible for producing this book. I made this book under the theme "characters vs. graphic designs." The book is based on the characters that the company made for 4 years since it was established. You can take a character design as a graphic design and make an image that each character has got wider in a book as a stage.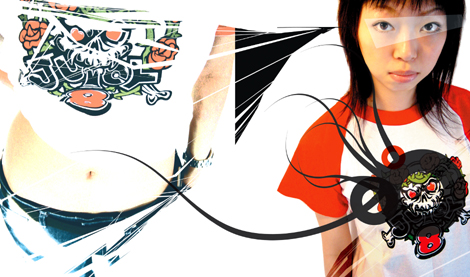 From the 1st of July at "CWC Gallery" in Daikanyama, at "Rocket" in Harajuku and from the 5th of August at "Soso Cafe" in Sapporo, the exhibitions of Furi Furi Company have been held for the release of this book. What is a concept(s) of this exhibition? Please tell us the feedback you got at the exhibitions in Tokyo.
The display at CWC Gallery put emphasis on the book. Taro Yamada worked as a leader to create a stoic showcase. The large-sized prints, which were made with the remixed character materials in the book, were displayed. The exhibition at Rocket was mainly about the characters.
For example cushions and vinyl dolls of two characters that we made for this event, 100 of only one-limited T-shirts of Furi Furi characters, CD that imaged this exhibition and others, the exhibition was organised with bringing the use of the characters that suppose to be used so.
The new series "Electronic Virus", planned and designed by Furi Furi Company, is featured in this exhibition as well. I can't tell you the details such as the concepts now but the character illustrations will be presented except the secret characters. Soft vinyl dolls (total 6 dolls) will be released from CUBE Co., Ltd. in autumn 2002. Capsule toys (total 6 types) will be released from Yujin Company Co., Ltd. in winter 2002. A half of our T-shirts have already been sold because the second exhibition was held in Harajuku where people, who are very sensitive to "limited things", hang around. We have got many good feedback to the prototype toys of "Electornic Virus" that are shown for the first time. We are looking forward the release of this product, too.
How would you like visitors to enjoy this exhibition?
I would like them to stop by our exhibition as if they go to a shop unlike trying to look tough in order to go to a "designer's" exhibition! A life-sized Furi Furi Kun was displayed at the exhibitions in Tokyo and I saw kids shook hands with it. No praises can be better than that and that reminded me of the thing, which Furi Furi Company heads for, is in a small but a very important deep impression.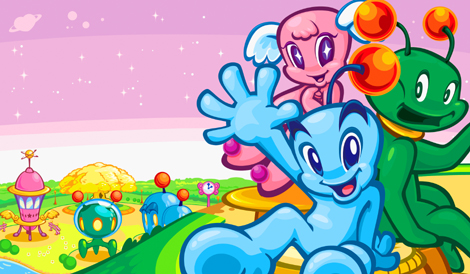 Please tell us about the cover design for this month's issue. What sort of message did you put there?
I am Osamu Iwasaki from Dv4 and I made this design. I expressed the circumstance, which characters are consumed and reborn as a different one, with a theme of "Shift" and the concept of our exhibition "Furi-Furi-like Tao." The world, where consumption is happened by chances that people get to know each other and that demands bring new characters, is the theme of this design.
What is the first step of designing in Furi Furi Company? Has each staff got each role?
Memories, conversations and a huge amount of information, which had been accumulated within me, suddenly come up to my head and they become a sort of trigger to start a thing. I grope what a real thing is for me, build up a concept and talk and ask staff to give me their hands in order to complete a work. If I could not get an agreement from the staff, I think about the concept in my head again. As for the producing process, a stint, which suits each team's special ability, is provided. If I talk to them something without considering deeply, their reactions are pretty cold. So I deal with it with caution (laugh).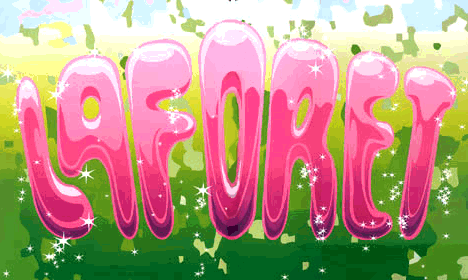 © LAFORET
What is interesting about designing?
Challenge and a tense atmosphere to make people happy. A pleasant feeling of creating things. Praises from a third party. And repeating to yield to self-hatred. I think this is really humane and great.
How would you like to expand your filed as Furi Furi Company in the future?
I would like to keep on strengthening the current team system (project section system) and hope each team will independent. The staff in Furi Furi Company are growing everyday so that I believe the day, when I realise that leading everybody by myself is nonsense thing to do, will definitely come. I would like to create a space where we can influence each other in a good way. Also, it would be nice if each staff could apply himself to his works in order to make his dream come true.
As "Furi Furi Company," we would like to design education. We want children to know more that they can let themselves free by knowing many things. It would be fantastic if we could design something to help them. Design is not an intrinsic quality.
Please leave a message to the Shift readers.
Feel more about the importance of continuing a creative work and its splendid points.
Furi Furi Company
Address: 2-1-10 #202 Akasaka Bldg., Sendagaya, Shibuya, Tokyo 151-0051
info@furifuri.com
http://www.furifuri.com
Text: Sachiko Kurashina
[Help wanted]
Inviting volunteer staff / pro bono for contribution and translation. Please
e-mail
to us.