Works created for "…BETWEEN…" are exhibited at a cafe gallery called Up River Club in Kunming, the capital of Yunnan. This Up River Club was originally built with a brilliant colonial style as a private house of a local banker in 1940's, and had become superannuated without its master after new China was born. Then it was renovated by Ye Yongqing and opened last January. Those works are exhibited at the cafe's gallery upstairs.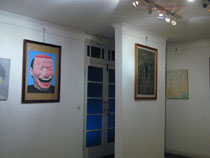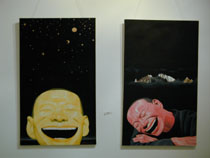 It came as a surprise for me to see the relaxing creation style different from Venice and Fukuoka. One of the works by Yue Mingjun whose works are based on self-portraits has a smiling face with a skyful of stars. It makes us smile and lets everyone feel what Dali is for him.
When I first visited Dali 10 years ago, the skyful of stars I experienced at a roadside restaurant (a small brick-built teahouse in the mountains) was imprinted on my mind. I guess stars and Dali lying under those stars gave Yue Mingjun something different from Beijing and other big cities overseas. Neeman has continued creating works while thinking of the milky way, always shining as a symbol of hope that exists beyond the chaotic present.
The Up River Club has not only works of this project, but also lots of must-see works for contemporary Chinese pictures.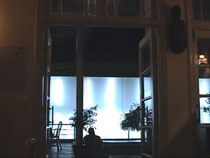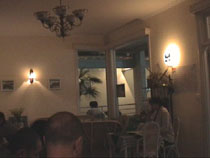 Both the Up River Club and the Dali Mei Gong River Center of Art and Culture are organized as an entirely independent limited company. Neeman says, "Making use of funds as a company gives us an independent activity". Up River Club is run by the proceeds from the cafe and Dali Mei Gong River Center of Art and Culture is run by the proceeds from the cafe and guesthouse called MCA, internet connection and gallery. It also works as an art center.
Those tasks also need a sense as an artist and organizer. Up River Club is a comfortable space where people comfortably spend their time, and serves excellent coffee and tea (which Yunnan is noted for) in a superb way and foods making full use of the fruits of the mountainous country, Yunnan. MCA also gives a comfortable space making the best use of the house of the White tribe.
Besides, they provide workspaces for artists to stay and work without regard to their nationalities.
"We welcome people who want to express themselves here in Dali, provide spaces for them and hope something wonderful will be made here…" (Neeman)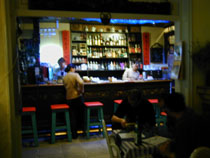 This evening, I met a woman artist who just arrived in Dali from Beijing the day before. She will continue her creation in a lounge organized by her partner for a couple of years. While she was e-mailing an Englishman who bought her painting before she came to Dali, she said, "I'm sure I can devote myself to create something more peacefully than in Peking. What is inconvenience living far away? I think there's no inconvenience. Because I'm now getting ready for a one-man exhibition in Europe next year."
Inter art 21 (art organization by Neeman and Ye Yongqing)
How to go to Kunming: Thailand International Airline operates flights everyday to Bangkok. About one and half hours flight from Bangkok. From Japan, JAS operates two direct flights a week from the Kansai Airport. As China needs a special visa, get more information at a travel agent.
How to go to Dali: About 5 hours from Kunming by a Volvo express bus. There are two flights a day from Kunming.
Text and Photo: Tomohiro Okada From Cool States Communications Laboratories.
Translation: Mayumi Kaneko
[Help wanted]
Inviting volunteer staff / pro bono for contribution and translation. Please
e-mail
to us.