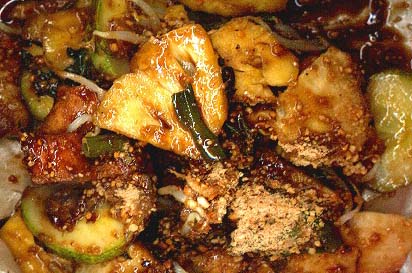 Chunks of pineapple, cucumber, turnip, dough fritters and fried tofu infused with prawn paste, accompanied with bean-sprouts and jellyfish, blended with a special recipe of chilies, topped off with crushed roasted peanuts. Pungent in smell, strong in taste, refreshing in every bite. That could well be the Singapore cultural scene.
Singapore's culture is indeed diverse. Born with no history, Singapore was brought up as a British colony. Singapore was home essentially to migrants all with the hope of better lives. Chinese and Indians together with the indigenous Malays made the bulk of her population. Together with the presence of her colonial master, the various cultures intertwined resulting in this Rojak. Leaving her with no single ideology, no major culture nor pure heritage to trace from.
This Rojak, unsatisfied with the "native" cultures on the island, has progressed to take on the cultures of the world. Her swift economic rise, together with the Internet boom has accelerated her exposure to the world, thus changing the cultural scene to the extent whereby second generation Singaporeans find it difficult to relate to the present scene. The third and fourth generations Singaporeans on the other hand are left on their own, juggling their vague lineage with the influences of the world, thereby facilitating further extraction, conversion and adaptation to recreate a unique version of Rojak.
Where else in the world can you find Rojak, Sushi and escargot on the same dining table? Present Singaporean lifestyle, spanning from cuisine to fashion encompasses many cultures. Youth emulate their Japanese counterparts in fashion, yet speak endearingly in a mixture of English, Mandarin, Malay and dialect, i.e. Singlish. Singers brought up on a staple of Western music croon in Mandarin, taking Asian markets by storm. The boundaries once laid by tradition now fade into the background.
I once said that because of this Rojak, my art would not be able to survive on an international level. (Ok, so I said it more than once!) Yet to think of it, it is this diversity in unity that makes Singapore's culture so unique, this boundless expression from people who try so hard with their hearts. Perhaps why Singapore is often labeled as a "cultural desert" is because the little people and the little things are often overlooked.
This Rojak is getting a new recipe. Looking at recent trends, ranging from government support to exposure from local magazines and television programs, this Rojak seems to be morphing into another dish. Perhaps some stew which gets sweeter and aromatic with time? I have already got my spoon ready!!
[Help wanted]
Inviting volunteer staff / pro bono for contribution and translation. Please
e-mail
to us.