SENDAI MEDIATHEQUE
On January 26th, 2001, 'Sendai Mediatheque', which has also attracted a great deal of attention as architecture, finally opened. It's a huge complex media facility composed of the civic library of Sendai City, Gallery space and Cinema space. The opening event being held from January 26th to March 20th includes large and small projects and workshops such as the 'Door of Memories' held at the main gallery space.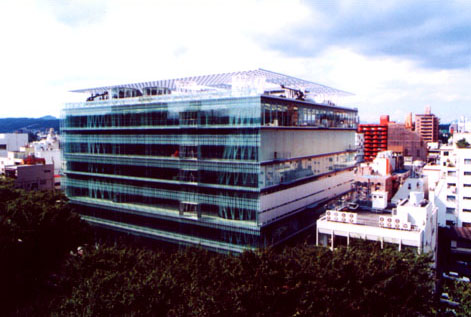 As one of the opening events, a special program featuring 'Computer Graphics' will be showcased at cinema space from February 13th to 18th. The program will be categorized in Special creators, Special producers, Moving images look through language, etc, and showcase works of younger creators and creators of middle standing in the last five years in Japan. It will be a good opportunity to see such artwork at the same time.
For the theater event at Mediatheque, the 'special program featuring computer graphics' will be realized by 28 visual creators and producers who operate various media as they like. Their messages embodied in the new visual style will take us to a new world and give us all sorts of happiness and strong emotions.
Special Creators' Program : Hideyuki Tanaka, Ichiro Tanida
Special Producers' Program : GASBOOK, PICS, Video Dictionary
Special Feature on moving images look thru language : Yoshimasa Ishibashi, Delaware,Kyupi Kyupi, Smelly
Moving images look thru music : Tsuyoshi Kusano, DEVICEGIRLS, FuriFuri Co., Kentaro Fujimoto, Tsuyoshi Hirooka (Level1)
Moving images look thru character : IMAITOONZ, Atsushi Suzuki, Satoshi Tomioka, Koji Morimoto
Moving images look thru design : 100LDK, AEGS 5&UP, STEREOTYPE PRODUKTS co., ltd, Masaru Ishiura (TGB DESIGN)
Look thru technology : Toshiyuki Aoyama, Kazuya Sasahara, Sonehati, Kei Yoshimizu, Shinji Watanabe

Sendai Mediatheque opening event at Studio Theater
Look thru language Computer Graphics
Date: February 13th - 18th, 2001
Place: Sendai Mediatheque
Address: 2-1, Kasuga-cho, Aoba-ku, Sendai
Tel: 22-713-3171
http://www.smt.city.sendai.jp
Text: Akira Natsume