"We are not Artists. We are Artoonists."
Have you seen the special feature in IDEA magazine? Their first exhibition is now being held on mobile phone and it is said they'll do amazing things for the next IDEA. In addition, their new album 'Artoon' will be released in April. The album hit me only with the title. Works recognized widely by everyone as having aesthetic value such as Matisse, Monalisa and Syaraku start moving!!! What does this mean?????? Does it mean the mix of old school and new school into a new field? Is it what Artoon is? And is it what Artoonist is!!!?
I threw some questions to Samata, the leader of Delaware, via email. A group of four who designs Rocks and rocks Designs. Where are Delaware heading for?????!!!!!!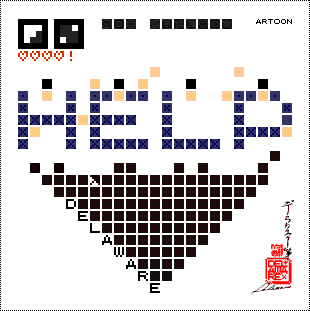 What is Artoon?
Artoon is a compound word of Art and Cartoon.
Can I be an Artoonist?
If you're not bound by art nor cartoon, if you're not bound by existing rules nor authorities, you should have the makings of Artoonist.
Why did you think of doing the first exhibition on mobile phone?
Because we thought the exhibition form in galleries was old-fashioned and the bitmap screen of mobile phones was suitable for us as a new canvas. I also like that the style as an exhibition doesn't move spatially. Everybody doesn't use ringing melodies. It's a contamination of sound.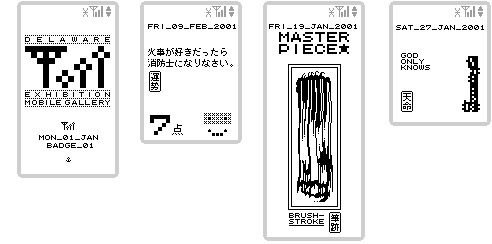 What are precious things in the 20th Century for Delaware?
Rock'n'Roll, Mini-skirt, Optical art and Personal computer.
What is Delaware's expectation for the 21st Century?
We don't have any expectations nor despairs.
What satisfies Delaware? Please tell us when you're satisfied.
It's when we make a new discovery in sound, graphic and attitude.
What does 'design Rocks and rock Designs!' mean?
It means doing design in a musical way of thinking and doing music in a design way of thinking.

What will Delaware be in 2001?
From consumption to circulation. From excitement to management. Shake ourselves free from scrubby abnormality to establish cool normality. Shake ourselves free from scrubby kids to be cool adults. Support the lifestyle of the 21st Century. Discover the expression of the 21st Century. Things like this are surging through our brains, though it's hard to do. We'll do our best anyway.
DELAWARE
A super sonic group of four designs Rocks and rocks Designs. Their works/activities include many things from music CDs and CD-ROMs to commercials, magazines, t-shirts, web sites, mobile phones and live shows.
Their unique style mixing music and graphic design exploded at Mac Expo'98. They developed an AV live show making full use of eight projectors. In April, their new album entitled 'Artoon' will be released after an interval of two years.
Text and Interview: Akira Natsume
Translation: Mayumi Kaneko
[Help wanted]
Inviting volunteer staff / pro bono for contribution and translation. Please
e-mail
to us.